Come, meet us at the nation's largest celebration of STEM.
X-BOTS Robot demos will be back again at the 5th USA Science and Engineering Festival Expo on April 7th and 8th at Booth#1860, Engineering and High Technology pavilion, thanks to our sponsor INCOSE WMA.  We are honored to be included among the 3,000 hands-on exhibits from the world's leading scientific and engineering societies, universities, government agencies, high-tech corporations and STEM organizations. The two-day Expo is perfect for children, teens, and families who want to inspire their curious minds.
Where: Walter E. Washington Convention Center
When: Saturday 10 am- 1 pm and Sunday 10 am- 1 pm 
Get your free tickets at https://usasciencefestival.org/attend/2018-festival-expo/register/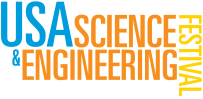 Learn about how you too can be inspired to start building robots!